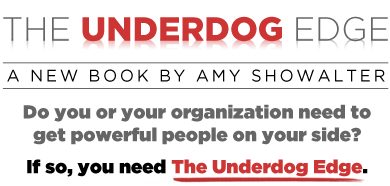 Hello and thank you for your support in promoting The Underdog Edge.
What you will find here. . . . .take what's useful & ignore the rest:
Nine ways you can be an Underdog Edge Evangelist
Buy The Underdog Edge and Give an Underdog the Edge
Bullet point summary of the project
Featured in The Underdog Edge
Twitter hashtag (#underdogedge)
Facebook page (https://www.facebook.com/UnderdogEdge)
Front and back cover
How to post a review on Amazon
Author Q&A
Underdog Edge Media page (https://underdogedge.com/media/)
Nine Ways You Can Be an Underdog Edge Evangelist
Send out a dedicated email blast to your list.

Ask us to give you an Underdog Edge article for your association or corporate e-zine, advocacy web site, newsletter, etc. (The Author Q & A section below is one option)

Write a note to five key influencers you know and ask them to help spread the word.

Write to people who might buy the book in bulk.

Write a blog post. 

Tweet your content when you have an underdog insight, or follow me on Twitter @amyshowalter and re-tweet my #underdogedge content

Write a review on

Amazon

or

Barnes and Noble

"Like" the

Facebook page

 

Post a review on Amazon.com
Buy The Underdog Edge and Give an Underdog an Edge and Help Habitat for Humanity – One percent of book sales are being donated to Habitat for Humanity for the life of the book:
Bullet Point Summary of The Underdog Edge
The book is called: The Underdog Edge: How Ordinary People Change the Minds of the Powerful. . .and Live to Tell About It.
The book features the stories of former and current legislators and business leaders who had their mind changed by an "ordinary" person, and the underdogs who changed their minds.
From this information, we have collected a common pattern of behaviors that are used by persuasive underdogs.
The underdog techniques are backed up by influence research literature.
There are over 30 underdog influence tactics, grouped into seven key extreme influence tactics: Build Your Underdog Street Cred, Be Vivid, Get Grit, Keep Your Eyes Up, Build Your Pack, Be Nice, and Do Something before Asking for Something.
The Underdog Edge includes tips on how to develop the underdog influence skills.
The Underdogs featured in the book are from the following organizations:
Featured in The Underdog Edge
Dr. Joseph Vandello, University of South Florida
Dr. Brad Sagarin, Northern Illinois University
Dr. Jill Avery, Simmons School of Management
Dr. Kelton Rhoads, USC's Annenberg School for Communication
Kay Cannon, Executive Coach – Kay Cannon, Inc.; ICOO Advisory Council
G. J. Hart, CEO, Texas Roadhouse (formerly) CEO, California Pizza Kitchen
Colleen Barrett, President Emeritus, Southwest Airlines
Greg Brenneman, Chairman, CCMP Capital
Bill Novelli Co-Founder, Porter Novelli and former CEO, AARP
Gary Rogers, Founder, Dreyer's Grand Ice Cream and Former Chairman of the Board, Levi Strauss
Current and Former Legislators: 
Congressman Mike Honda (CA)
Congressman Walter Jones (NC)
Congressman Jim Ross Lightfoot (IA)
Congressman Richard Swett (NH)
Congressman Toby Moffett (CT)
Congresswoman Heather Wilson       (NM)
Former Speaker of the House Dennis Hastert
U.S. Senator Scott Brown (in role as Massachusetts State Senator)
Florida Governor Rick Scott
Montana Lt. Governor John Bohlinger
Ohio Speaker of the House JoAnn Davidson
Florida State Representative Leslie Waters
Florida State Representative Janegale Boyd
California State Assemblyman John Laird
Ohio State Representative Jim Buchy
Kentucky State Representative Jimmy Higdon
Kentucky State Representative Tom Burch
U.S. Senator and Virginia Governor George Allen
Massachusetts Governor Mitt Romney
Minnesota Governor Tim Pawlenty
Underdogs and lobbyists from the following organizations:
American Gas Association
American Heart Association , Mid-Atlantic Affiliate (NC)
American Society of Civil Engineers
Council of Insurance Agents and Brokers
Flyers Rights
Lexington-Fayette Counties of Kentucky Health Department
National Black Farmers Association
National Federation of Independent Business
National Multiple Sclerosis Society, Minnesota Chapter
National Restaurant Association
National Retail Federation
Nationwide Children's Hospital
Nationwide Insurance
Southwest Airlines
Tea Party Express
United States Department of Defense
United Way of California
Virginia Association of Realtors
Voices of the Faithful
Westfield Insurance
Wisconsin Hospital Association
Yellowstone Valley Citizens Council
Download Cover Images of The Underdog Edge
Post a review on Amazon.com
Please post a review on Amazon: https://www.amazon.com/Underdog-Edge-Ordinary-People-Powerful/product-reviews/1600379982/ref=cm_cr_dp_all_helpful?ie=UTF8&showViewpoints=1&sortBy=bySubmissionDateDescending
The Story Behind the Story: An Interview with the Author
Q:  What is the "underdog edge?"
A: It's the advantage that those without power actually have to persuade more powerful people­when deployed correctly. If you or your organization possess authentic underdog "street cred," you can accomplish a lot, because powerful people have a psychological need to help those less fortunate.
Rooting for the underdog is about transference – the transference of what's possible. We root the underdog because of what it means for us.
Q: Why did you write about underdog influence?
A:  Underdogs have always fascinated me because of my upbringing. I grew up on a farm in Greenville, Ohio and we didn't have a ton of money. Even so, my mom was always looking for ways to help those who had less than we did. She was buying toys, making food, etc., for those who had less. And many times I resented it when I reached into the fridge for a delicious dessert and was told to walk away slowly because it was made for someone else. Plus, she was always reminding me not to think of myself as better than others, as  "everyone is equal in God's eyes."
I caught my mom's values.  I choose a profession where I could work for the powerful (elected officials) or work to influence them. I did a brief stint in the Ohio state legislature as an aid to a state senator, but I preferred working with those outside the system. I just did not gravitate to powerful people, and this played out in my professional life. I certainly do not disdain the powerful, because we all need them to move initiatives forward, and I admire their achievements and sacrifices. But, as you'll read in the book, their success foists upon them an innate need to help others, and that's where the underdog has the advantage.
My second job out of college was as a lobbyist for small business members of the Ohio Chamber of Commerce, where I was a lousy lobbyist. As I look back, I was lousy because I did not enjoy schmoozing with powerful legislators. What I did enjoy, and when I was experiencing "flow," as they say, was when I was working with the small business owners I represented in the legislature. I loved being around them, and I saw that elected officials listened more intently to them than we paid lobbyists.
I then was hired by Nationwide Insurance to make sure elected officials did not make decisions on insurance issues without hearing from those affected by them – the employees and policy holders. I had to get insurance employees excited about legislative issues that dealt with "combined rations" and "verbal thresholds" – not exactly exciting issues, but important to their jobs. Again, my inspiration came from the rank and file employees who took the time to champion the company's issues before their legislators. So, I've seen lots of "ordinary" people successfully influence up the food chain.
Now, I'm hired by large corporations and state and national trade associations to teach them how to get powerful people on their side. One of the ways I do this is to help them engage their "ordinary" people to champion their issues.
I found that some organizations are better at this than others; specifically, they had members of their organization who were able to achieve results while others, even in the same organization, would have negligible results. I wanted to find out why some were successful and others were not.
Q: How is upward influence different from other influence encounters?
No matter what your station in life, sometime you will be the underdog. You will need something from someone more powerful than you. That person will have all the cards, all the advantages, and you have nothing to offer. That is when you need to use extreme influence tactics, which is the essence of the underdog edge.
I believe the best examples of successful underdog influence come from the political realm because the person you are attempting to influence was elected by thousands of people­he or she has instant power and a mandate. The politician was not (usually) appointed to the job – he or she was elected in a competitive popularity contest, which imbues him or her with a sense, legitimately or not, of mandate and destiny (and egregious behavior as we have seen from some recently).
Q: How does the book apply to organizations?
The "story behind the story" is that being an underdog is an asset. Corporations wonder why popular culture picks on them (which also frustrates me) and yet they tout how big and powerful they are. It's ok to be big and powerful, but as the research in my book reveals, the more you tout your power, the less underdog "street cred" you have.
Makes sense, right? But the nuance is that even if you are the underdog or have an underdog biography (think Apple and Oprah Winfrey), you can't tell everyone that you are the underdog –it's only believable when others give you the title.
I think Wal-Mart has a fantastic underdog biography, but it seems to tout its power and constant presence on every street corner. They need to get back to that "Sam Walton, driving the pick-up truck" biography. And then behave like a humble underdog.
Companies that are big need to find ways to be small.  They need to unearth their underdog biographies and ethically bang that drum to show people that they have grit that they earned their status through suffering and hard work, instead of talking about how big and great they are.
As we saw from the problems with Wall Street, the banking industry, and big auto companies, big is not necessarily better. Big companies make big mistakes. The bigger the company, the bigger the mistake, and the bigger pool of people impacted.
And according to the people I interviewed for the book, underdog biographies resonate even more now in recessionary times than in the good times.
Read more Q&A with the author:https://underdogedge.com/the-underdog-edge-story/